How to Buy an Island is the definitive account of the Barclay brothers, charting their incredible journey to power and fortune.
Author Jane Martinson unravels previously-buried stories from the brothers' six-decade long reign at the peak of British business: from their close association with Margaret Thatcher and the massive wealth they garnered from it; to their audacious and controversial acquisition of The Telegraph newspaper; to the scandalous inside story of their public fallout, a dispute mired in succession, betrayal, espionage and inheritance which ultimately left the family split in two.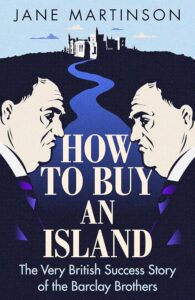 But this is not just a biography of two of Britain's strangest billionaires. This is the story of a world that would become Brexit Britain, with its tightly enmeshed webs of influence between capitalism, politics and the media.
The lives of the brothers reveal much about post-war Britain and a new, ruthless way of doing business which has proved remarkably resilient – they built their wealth in the UK, but retained it by siphoning the profits from their network of private companies to offshore entities in a purposefully complicated corporate web.

How To Buy An Island is an examination of politics, corruption, deception, power and money over the last 70 years of British history – not just the story of two impoverished children-turned-billionaire-knights-of-the-empire, but a story of humanity, its limitations and, ultimately, its power to change the world.