She's the voice of a global movement who mobilised millions of young people to demand action against climate change. Yet Greta Thunberg's message to the US Congress – a hotbed of climate scepticism – was: "I don't want you to listen to me.
Little more than a year ago, we hadn't heard of Thunberg. That changed after August 2018 when she held her first skolstrejk för klimatet, a 'school strike for climate', ducking out of class to protest outside Sweden's parliament.
"I want you to listen to the scientists."
Before long others joined her school strikes and, within a matter of months, a global movement was born. By March 2019, more than 2 million students across 135 countries were holding school strike demonstrations.
Thunberg has come a long way in a year, both literally and figuratively.
Just weeks after her 16th birthday she attended the World Economic Forum's Annual Meeting in Davos, where she famously urged world leaders to "panic" at the seriousness of the situation.
"I don't want your hope," she told the audience. "I want you to panic. I want you to feel the fear I do. Every day. And want you to act. I want you to behave like our house is on fire. Because it is."
In March Thunberg was nominated for a Nobel Peace Prize. Time magazine named her one of the world's most influential people ans put her on its cover. She has addressed the European Parliament, the French National Assembly, the UK's House of Commons, and met with Pope Francis.
Now she is addressing the United Nations Climate Summit, a meeting she travelled to by carbon-neutral yacht.
"It is insane that a 16-year-old would have to cross the Atlantic to take a stand," she told reporters on arrival at the harbour. "The climate and ecological crisis is the biggest humanity has ever faced."
And on the eve of the UN summit, she spearheaded an unprecedented global demonstration calling for action on climate change.
Incredible pictures as Australia's gathering for the #climatestrike
This is the huge crowd building up in Sydney.
Australia is setting the standard!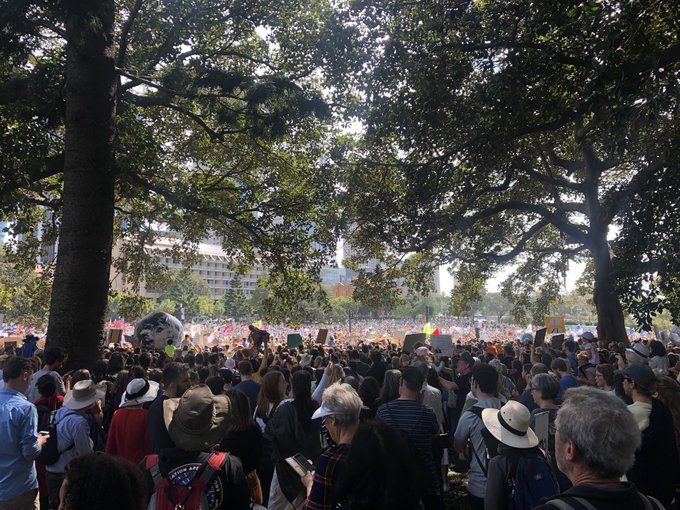 Sukhman Dhami, 41, who joined the New York leg of the protest, told Reuters: "Scientists establish the facts, but it's up to communities and people to demand everyone act on this.
"Greta Thunberg has inspired millions of Gretas – young and old."